I was 23 years old before I saw my first computer.
At first glance, the machine was quite intimidating. My trainer explained all the cryptic commands I needed to learn, how a single mistake could erase hours of work, and how everything was running on a machine in a different building. Nothing about it was intuitive or pleasing to my sensibilities. As time passed, however, I came to find the actual work I was doing was enhanced by using the ugly terminal on my desk.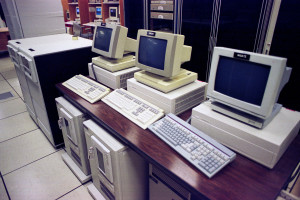 I didn't know it at the time, but my machine was on a mainframe. Complex installation, configuration, security and disaster recovery solutions made it imperative that the brains of our organization be controlled from a single hub. It was an unfriendly environment, but it worked to our make our business more efficient and productive.
Today, the business environment is more competitive, and business software is much more sophisticated, integrated and efficient. Users demand a more pleasant experience, with user interfaces that look like they were designed for human beings, not computers. While legacy mainframes often perform the functions for which they were originally implemented, many businesses are moving toward more modern solutions. Here are a few reasons to replace legacy systems:
Mounting maintenance costs
Poor information governance
Inflexible business architecture
Lack of mobile accessibility
Cumbersome user interfaces
Inflexible security settings
Difficult to integrate with other systems
There are, of course, reasons to keep legacy systems. If a business has a highly customized solution that isn't addressed by more modern tools, it may not make business sense to move from that platform. That being said, for many businesses it's time for change!
So what now?
It is often difficult for IT leaders to convince C-level business professionals that working software is actually bad for business. After all…"it's working and we already paid for it, right?" To influence leaders with this perspective, it is important to start with clear communication of both the business value of a new system (cutting costs and/or making more profit), and the vision of where the new technology will take the company. While it's true you may be able to squeeze a little more time out of these legacy systems, eventually your customers and your staff will be clamoring for mobile access, better security and an integrated humanizing experience.
As your business plans new IT strategies, chances are your IT professionals will implement in phases…moving functions from the mainframe to new platforms one at a time. This phased approach allows for modernization while dividing the risk into more manageable pieces.
Report and Output Management Modernization
Enterprise reporting solutions are some of the most valuable systems in many businesses, and OPIN's REVEAL allows you to load and migrate all of your existing legacy mainframe reports to your new environment. REVEAL's state of the art technology stack will also automatically capture your next-generation reports from your new servers, providing you with a single repository for all your content.  You can access all of your back office reports from a single repository using any browser, or even directly from your portal with a single sign-on.
Moving from legacy mainframe systems that are familiar to your business executives and staff can be a harrowing experience. Let OPIN's team of experts take the guessing out of your move into the 21st century. Contact us today!