I love a clean, organized garage.
That being said, I seem to be incapable of keeping it clean. With bikes, cars, tools, storage, shelving and all manner of miscellaneous stuff needing a home, the garage becomes the inevitable repository. The result is that I often close my eyes as I walk from my car to the door – pretending everything is as I like it. But of course, my delusion it doesn't organize my stuff.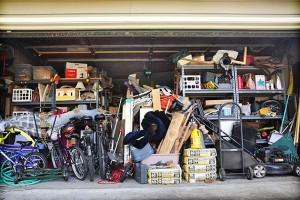 Several years ago, my family left on a week long trip without me. I decided it was my time to make things right in my garage. I literally pulled everything that wasn't bolted down from my garage and into my driveway.  As I stared at the mountain of supposedly important material sitting on my driveway, I had two thoughts:
Where did all this stuff come from?
I can't imagine how I'm going to organize this.
I was completely overwhelmed.
It was at that point that my neighbor Lisa stopped over. She immediately assessed my mental state and asked if there was anything she could do to help. Being that she is a home-schooling mother of 8 with an MBA and an impeccably organized house, I jumped at the opportunity to get her opinion on my predicament.
After asking a few questions, she took about 5 minutes and gave me a plan. A plan that I could understand, implement and maintain. It was incredible!!
Sound familiar?
Most businesses are facing the same issues every day with their content, except instead of having one garage, they have many, or dozens, or hundreds. Their valuable content is strewn everywhere…from user drives to personal laptops to email boxes to consumer-level cloud solutions to (maybe) ECM content repositories. This disorganized mess makes it almost impossible to leverage key content across the organization.
How do I start to organize content?
At OPIN, we do migrations every day, and we see just how debilitating this scenario can be.  But how do you "clean the garage"?
Start by doing a complete inventory of your content. (Pull your stuff out of the garage!)

Where is it? Who uses it? Where is it stored? Which version is the completed version?

Identify key stakeholders (Ask for some help on how organize your garage.)

What systems create the content? How is the content used?
How would they like the content to be accessible?
What is the business value of the content, and how can that value be maximized by organizing it?

Pull together a cross functional team to identify a solution (No garage metaphor here!)

All key stockholder groups should be represented
Create a unified strategy

Sell the solution to executive sponsors

Demonstrate the problem
Present the value assessment complete with ROI schedule
Suggest tactical solution

Create a strategic plan focusing on user adoption

If users don't like it, they won't use it!
I'm not sure there is a sure-fire way of keeping my garage, or any content repository completely free of chaos.  but by taking some time to inventory your content, you give your business a much better chance of success.
So pull your junk out and give it a look. You just might find something valuable in there!